I Need a New Laptop (But Can't Afford it)
Written by
Andrew Tavin, CFEI
Andrew Tavin is a personal finance writer who covered budgeting with expertise in building credit and saving for OppU. His work has been cited by Wikipedia, Crunchbase, and Hacker News, and he is a Certified Financial Education Instructor through the National Financial Educators Council.
Read time: 5 min
Updated on July 27, 2023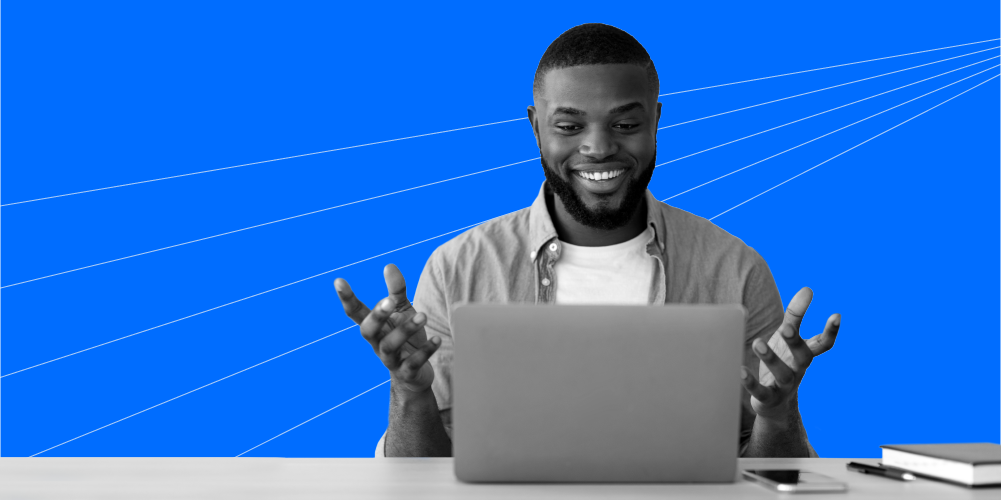 Balking at the price of a new computer? Time to go online for less!
Living in America in the modern day can be very expensive. Maintaining a home is expensive. Maintaining a car is expensive. Maintaining a human body is expensive.
And with a competitive and increasingly technical job market, you may find yourself facing new expenses at any time. Laptops, for example, seem to be increasingly necessary for applying to jobs and for working at many jobs.
If you're lucky, your job will provide you with the computer you need to do the job you need. But if you aren't working, work for yourself, or need a personal computer to take care of personal business in off hours, you still may need a personal device to get by.
Buying and maintaining a new laptop, no matter the brand, is — you guessed it — expensive. However, with more and more products capable of connecting to the internet, from refrigerators to toothbrushes, it is worth asking if you can manage to keep your affairs in order with a more affordable alternative that doesn't require you to run up your credit card.
Tablets
It only took a few thousand years for tablets to go from the hottest technology in Ancient Egypt to one of the hottest technologies of the modern day. According to Pew Research, a little more than half of adults in the United States now own a tablet device. A tablet looks like a laptop screen without a keyboard, and odds are you can buy a keyboard to connect to your tablet if it's a necessity for you.
"Tablets are definitely more affordable options in comparison to laptops, and the gap between them in terms of technological capability is narrowing," advises Beverly Friedmann, content manager for consumer review site ReviewingThis. If you don't require all of the functionality of a standard laptop when you buy a new computer, it may be worth the savings to invest in an alternative.
Friedmann does caution, though, that tablets cannot necessarily stand in for laptops in every instance. While tablets can manage web browsing, video streaming, and basic writing and editing, they may not cut it if you need to work with multiple files or edit images or video. You may be limited in terms of what types of word processing features you can access, as well.
Holly Zink, tech expert for Digital Addicts, offers her take on two of the most popular tablets on the market today:
"From having a Microsoft Surface Pro myself, I highly recommend this product as a laptop alternative," Zink says. The tablet-laptop hybrid can run a hefty price tag, so she also recommends the following:
If you do not have the budget to afford the Surface Pro 7, you could purchase one of the previous models like the Pro 6 or Pro 5. Your price point for this product will also depend on how much laptop power and gigabyte space you need.

The iPad Pro is Apple's big attempt to make their iPad have the power of a laptop ... If you take videos and photos for a living, the iPad Pro can connect to your camera with the USB C cable. The price point will depend on which screen size you get and how many gigabytes of storage you want.
Even if you settle on a tablet, your research will not be done, Zink emphasizes. There is a lot of variety even within brands, and the amount you are able to spend as well as your processing and storage needs will steer your decision.
Netbooks
If you do not need the full features of a proper laptop, but find tablets finicky to manage, then a netbook, such as Google's Chromebook, may be for you. It is kind of like the hybrid child of both!
"If you are accessing web-based applications with more data entry, but with the majority of the processing occurring on the server side, there are many Android-powered netbooks available for a pretty low price," says Jason David, CEO of Software Portal.
Find a cheaper laptop
What can you do if you if none of the likely alternatives will fit your needs? Find a cheap laptop for even less. Here are four options to consider, especially if you are looking to avoid financing:
1. Get technical
Eckhard Ortwein, CEO of Lean Case, believes the more affordable alternative to a laptop is a cheaper laptop. Aside from deals, sales, and comparative shopping, you could try and get technical.
"Pick a model that is easy to upgrade," Ortwein recommends. "The elements that you need to upgrade to get a significant performance boost are the RAM and the hard drive. There are plenty of online stores where you can buy new or used hardware to upgrade your laptop."
If you have a tech-minded friend or family member, consider reaching out to them for support. They may be able to help you learn the ins and outs of graphics cards, hard drives, storage capabilities, and more. Maybe they can help you install your upgrades, or at least, investigate the features you need.
2. Buy used or refurbished
Skip the idea of getting a new device altogether and settle for a solid, refurbished laptop instead. Dell and Best Buy are just a couple of places you might be able to score a good refurbished computer with an updated operating system that meets your needs.
3. Wait it out until the holidays
With the holidays and Black Friday already in play, you may be able to uncover some great deals this time of year on a new computer or good laptop to support your needs. Shoppers can scrounge up a deal on computer brands from Lenovo to Microsoft and Acer at a variety of online and retail outlets, such as Amazon or Best Buy.
4. Take advantage of student discounts
College students who are in the market for a new computer are in luck. Computer manufacturers like Apple, Dell, Lenovo, Microsoft, and Toshiba all offer some sort of discount on hardware. Some schools may also have their own discount partnership with hardware and software providers, so be sure to do your research before splurging on a brand new laptop computer or tablet.
Research, research, research
Now that you have absorbed this wisdom, it is time for you to research and figure out which option, if any, makes the most sense for your needs. Whether you are looking to score a top-of-the-line product with all the bells and whistles, or a cheap laptop with basic capabilities, there should be an option out there for you. In the meantime, visiting your local library may be your best option if you need access to a free computer until you are able to get your own.