Financial Goals Worksheet to Rock Your Money
Written by
Samantha Rose
Samantha Rose is a personal finance writer covering financial literacy for OppU. Her work focuses on providing hands-on resources for high school and college-age students in addition to their parents and educators.
Read time: 6 min
Updated on July 27, 2023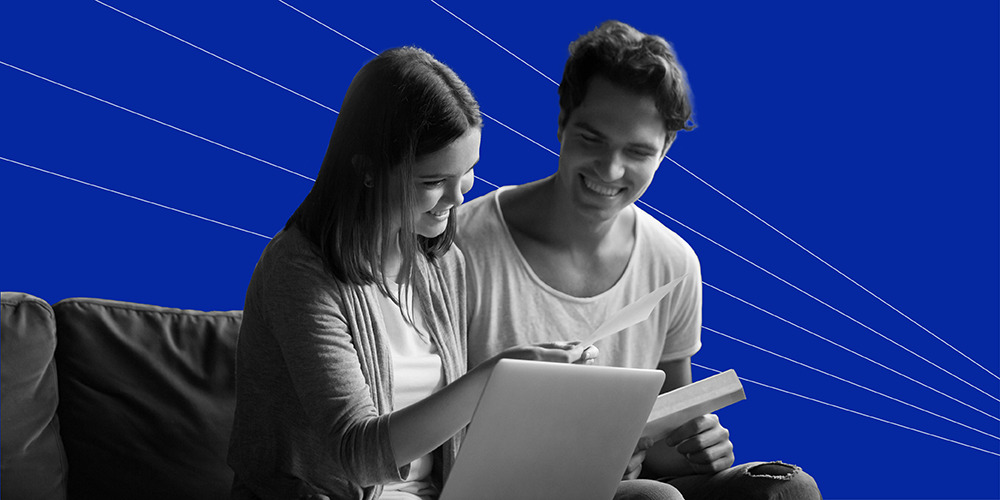 Ready to cross some finish lines with your finances?  Here's how. 
---
If you want to get anywhere in life, you need a roadmap. The same is true for money. 
Financial goals give you a destination: an emergency fund, no credit card debt, retirement savings. And once you know where you want to go, the next step is to map out a plan to get there. 
Ready to create a road map for your finances? Our financial goals worksheets will help you decide where you want to go and how you'll get there. The rest is up to you. 
Step No. 1: Brainstorm your financial goals
Put pen to paper and brainstorm your financial goals. Use this exercise to identify financial behaviors that are contributing to or hindering your goals. What do you want to start doing, keep doing, or stop doing?
For example: 
Start saving for big purchases, like a car or house. 

Keep contributing to your work's 401(k) with match. 

Stop racking up unnecessary debt.
Make sure these goals are realistic by taking your current financial situation into account. Don't set yourself up for failure by listing goals that are too difficult to achieve and behaviors that are unlikely to change.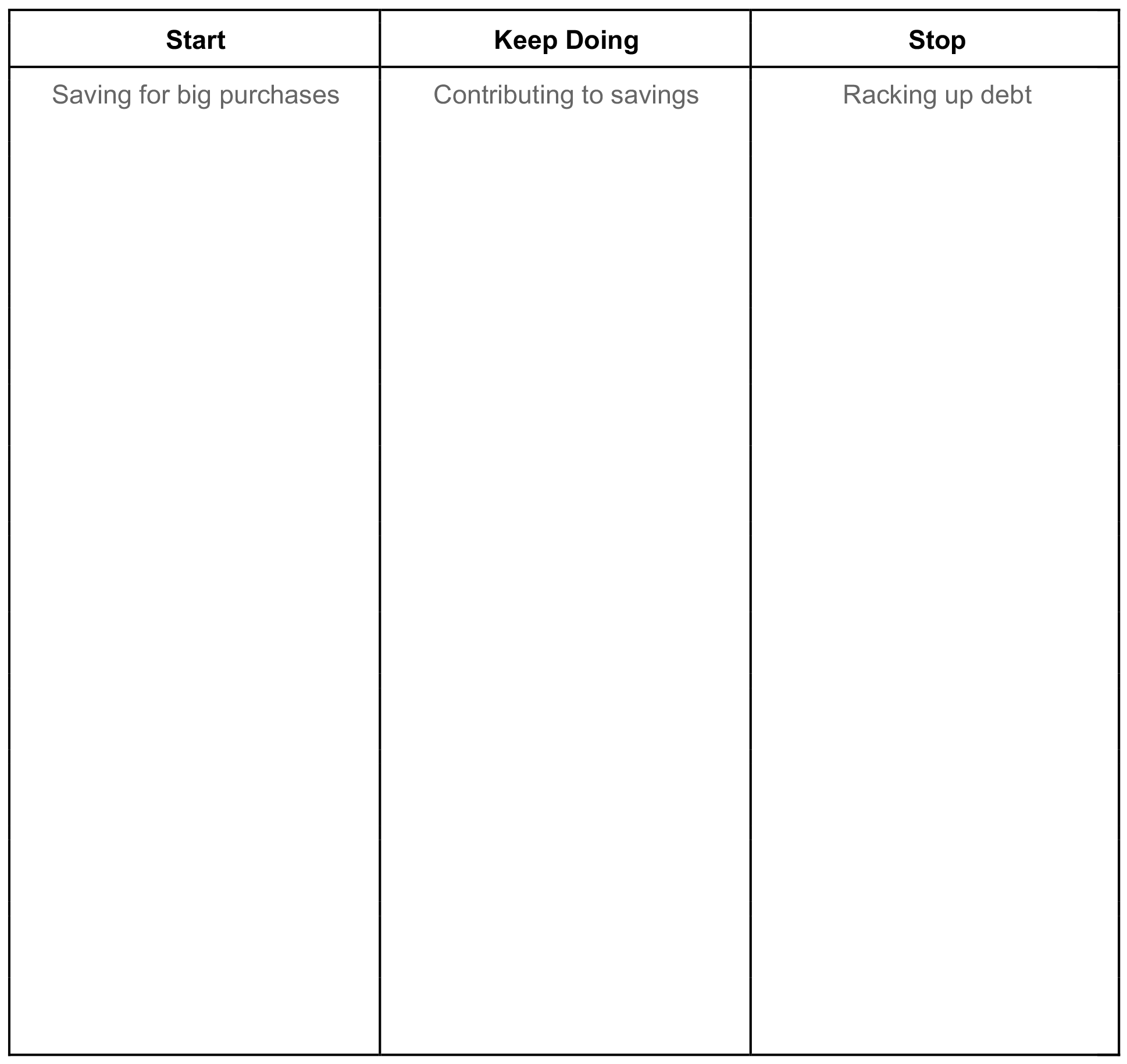 DOWNLOAD THE BRAINSTORMING WORKSHEET
Step No. 2: Prioritize your goals for success
We may be conditioned to multitask in other areas of our lives, but goal setting needs to be hyper-focused. If we spread ourselves too thin, we'll make minimal progress. With this in mind, once you have an idea of the goals you'd like to accomplish, rank them according to importance. Prioritization is key here.
Starting with the most important goal, choose one goal to focus on and then direct your energy and resources on accomplishing it. Keep in mind: Making 50% progress on our first goal is more impressive than making 5% on 10 goals. By accomplishing one goal at a time, you'll feel energized to accomplish the next one even faster.
There are some exceptions to this rule. For example: You can contribute to a savings account, like an emergency fund or a 401(k), while focusing on another goal. In this instance, set up an automatic deposit into a savings account, but then focus on funding one other goal with extra money.
Step. No 3: Know your motivation
Most people set goals without considering why they want to achieve them.
When setting your financial goals, consider the "why." What can money management help you accomplish in the future?
Everyone wants to reduce expenses and make more money, but every long-term goal is unique. For instance, someone who loves to travel may want to ensure they can retire with enough money to not only cover the basics, but take frequent trips.
Knowing why you want to achieve your financial goals is the most important factor in achieving success.
Step No. 4: Categorize your financial goals 
Categorize your goals according to timeline.
Short-term goals position you to complete mid-term goals, which position you to accomplish long-term goals.
By saving up an emergency fund this year, you can focus on paying off debt — whether credit cards or loans — in the next five years, which in turn will free up money and increase your credit score so that you can meet a financial milestone, like purchasing a home, in the next 10 years.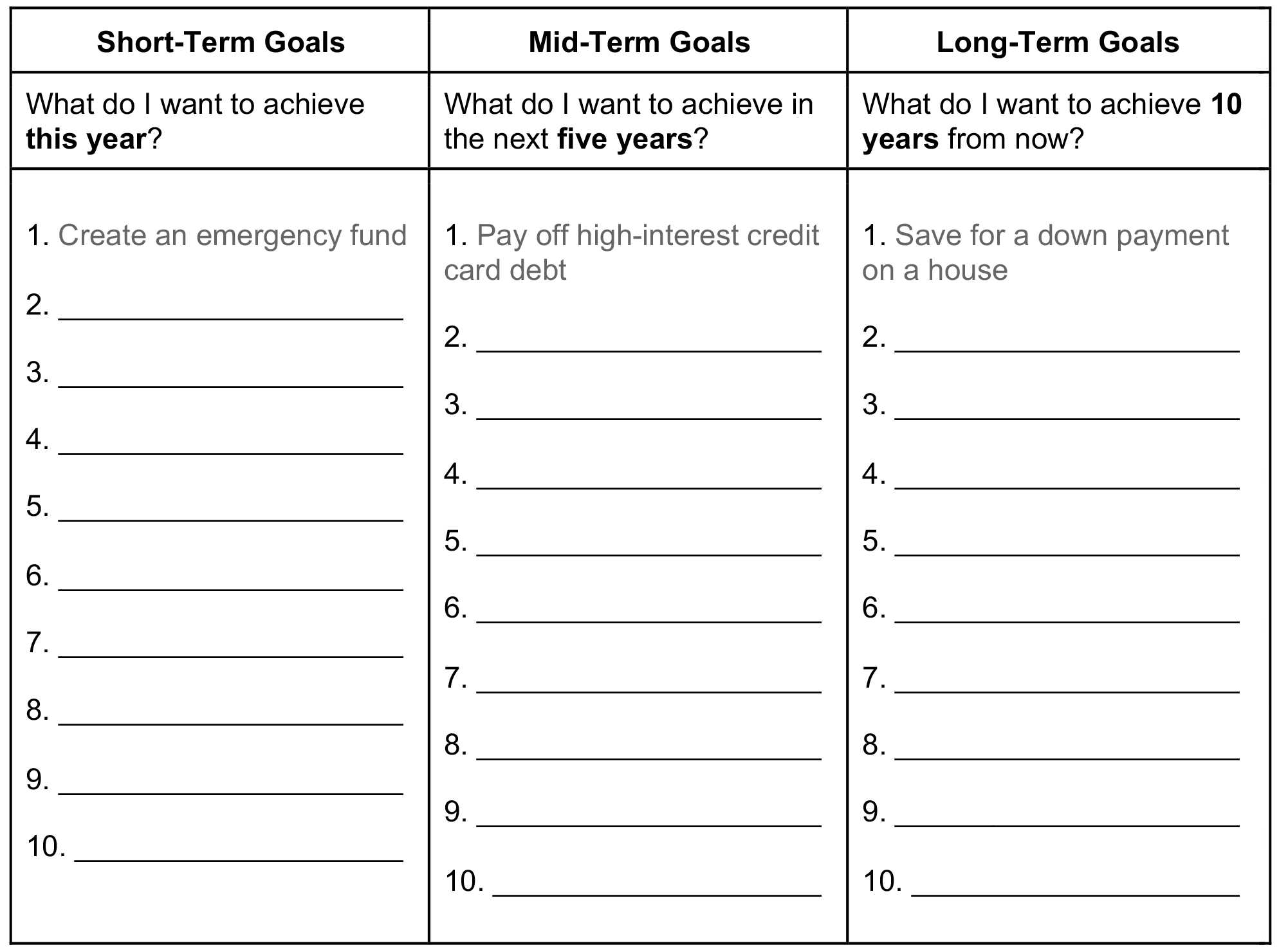 DOWNLOAD GOAL SETTING WORKSHEET NO. 1
Learn more about how to determine the difference between a short-term versus a longer-term goal below:
Short-Term Goals
These are goals that will take less than one year to complete.
A great way to frame a short-term goal is to select a milestone you'd like to accomplish in the current or upcoming year. Do you want to take a vacation? Buy a new laptop? Save up an emergency fund?
Break up your short-term goal into weekly or monthly goals to make them easier to complete. Transforming your financial life won't happen overnight. Be sure to celebrate the small wins, as they grow into larger successes.
Mid-Term Goals
Goals that are longer than one year, but shorter than five years, are mid-term goals. These require strategic financial planning, but are achievable in the near future. 
Do you want to pay off a credit card? Do you want to buy a car?
Approach mid-term goals in the same way you did for short-term goals. Break them up into smaller chunks — one year at a time. Then, create quarterly goals to stay on track throughout the course of each year.
Long-Term Goals
Long-term goals are far in the future, often more than 10 years from now. In order to accomplish large goals, start right now.
Will you purchase a home and pay off the mortgage? Will you have enough money saved up for retirement?
The only way to accomplish long-term goals is by completing short- and mid-term goals that position you closer to the finish line. Free up money through other types of goals and then allocate the remainder to funding your financial future.
Step No. 5: Accomplish your financial goals
With your goals clearly in mind, it's time to start executing. Create a plan of action. 
Don't underestimate the power of writing down your goals. By committing them to paper, you'll have a solid plan of action to hold yourself accountable.
Use the financial goals worksheet to create a financial road map for your future.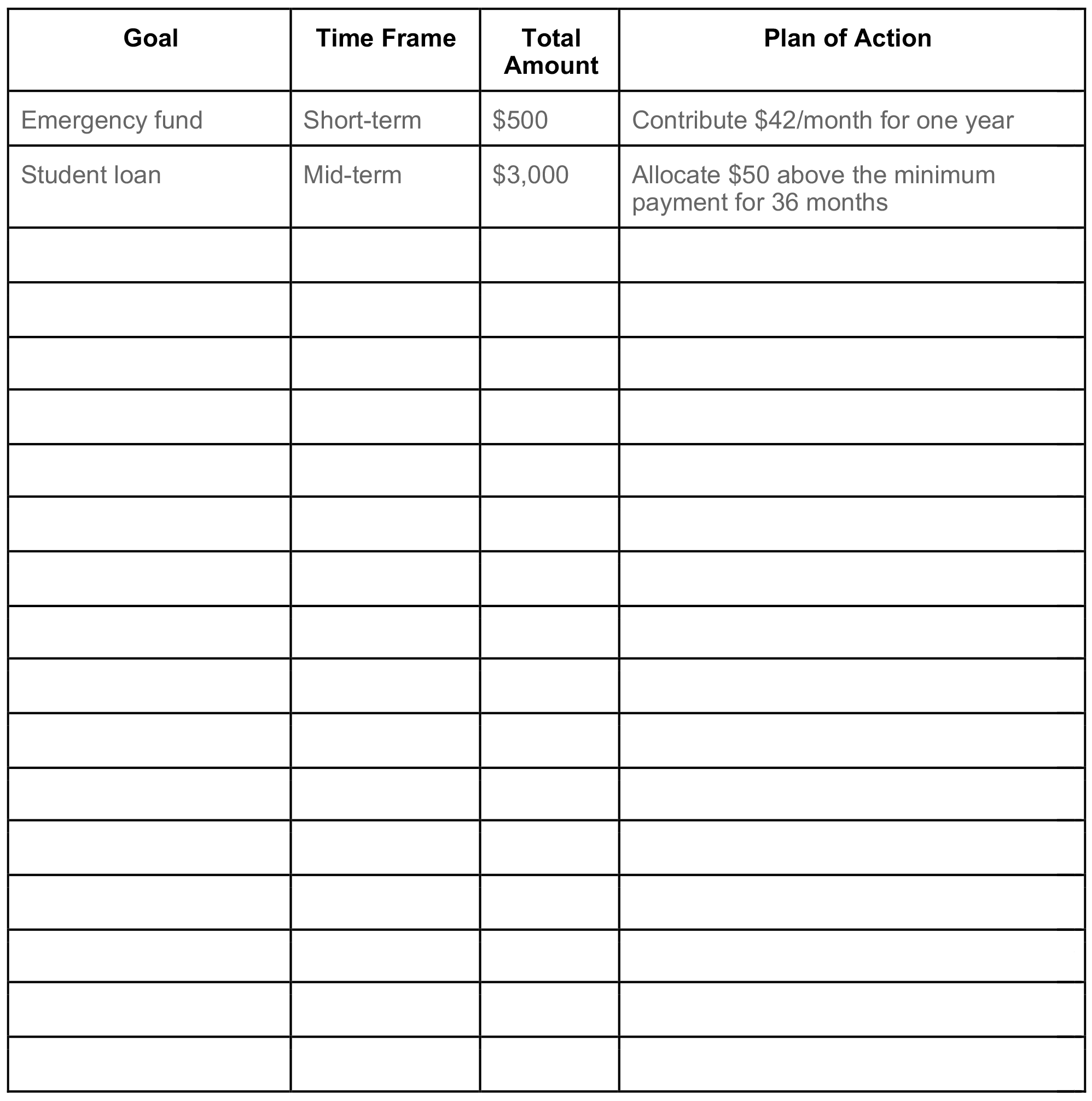 DOWNLOAD GOAL SETTING WORKSHEET NO. 2
Tips for Setting Financial Goals
The below financial professionals have several tips to help motivate you to get moving and cross the finish line on your financial goals.
No. 1: Partner with a professional 
Kyle Hart, founder and financial planner at Coastal Wealth Planners
Partnering with someone to set your goals and progress toward them along the way … is best accomplished with a professional who knows the ins and outs of planning, common considerations, and common pitfalls. 

A professional is best equipped to let you know if your goals are realistic, as well while giving guidance on the most efficient way to achieve them. [A] goal without a plan is just a dream.
No. 2: Find an accountability buddy
Andrew Chen, founder of Hack Your Wealth
Nothing motivates more than fear of embarrassment. That's why it's so powerful to have accountability partners … not because you can't do the work yourself, but by declaring a commitment to another person, you become more motivated to see the commitment through.

You don't have to tell your intimate financial goals to someone you're not comfortable sharing [them] with, though. If your financial goal is private, declare it to a close friend, your spouse, a sibling, or even a child in your family. The point is to make your commitment public.
No. 3: Automate the process
Kyle Hart, founder and financial planner at Coastal Wealth Planners
Automate your process wherever you can. Automation is key because it helps to save us from ourselves. 

Saving for a goal? Have an automatic payroll deduction, an automatic portfolio rebalance, and if possible or necessary, an automatic increase over time.

The more we can take the act of deciding [out of the equation], the less likely these things will go undone.
No. 4: Track progress
Andrew Chen, founder of Hack Your Wealth
You need positive recurrent reinforcement to make saving a habit. 

I recommend tracking your progress weekly or monthly in a simple chart, e.g. Google spreadsheets, so you can visually see your progress and experience that little endorphin rush each time you move closer to your goal. 

Creating a visual reminder like this will make the experience more fun and tangible, both of which will increase the odds you'll actually stick with it to the end.
Article contributors
Andrew Chen is the founder of Hack Your Wealth, a personal finance website, as well as a finance strategist and expert. He is a graduate of the Chartered Financial Analyst program and previously worked in corporate finance.
Kyle Hart is a financial planner and the founder of Coastal Wealth Planners. He spent years with some of the top investment firms in the industry before founding Coastal Wealth Planners. His firm deeply believes in goal-based, holistic financial preparation.