How to Use a Bullet Journal to Slay Your Money Goals
Written by
Samantha Rose
Samantha Rose is a personal finance writer covering financial literacy for OppU. Her work focuses on providing hands-on resources for high school and college-age students in addition to their parents and educators.
Read time: 8 min
Updated on July 27, 2023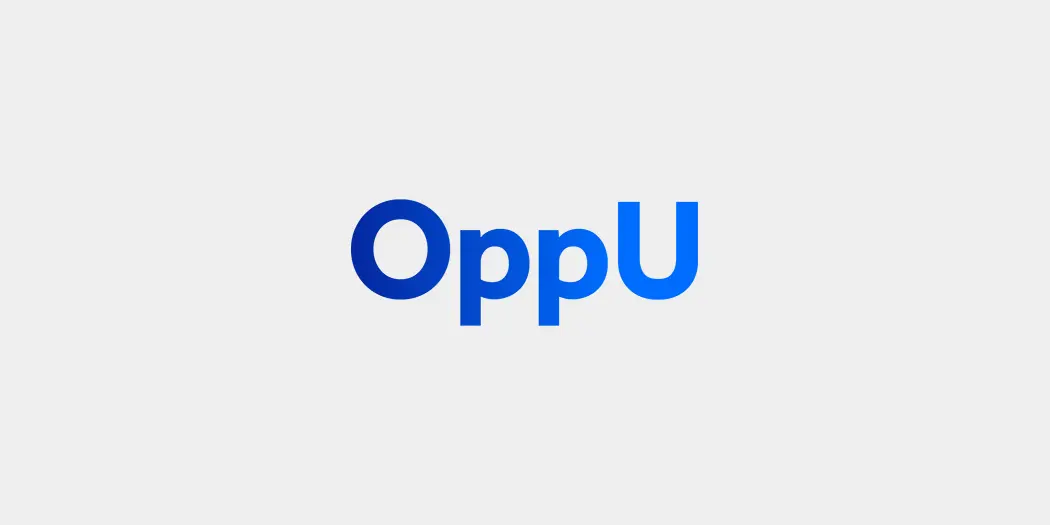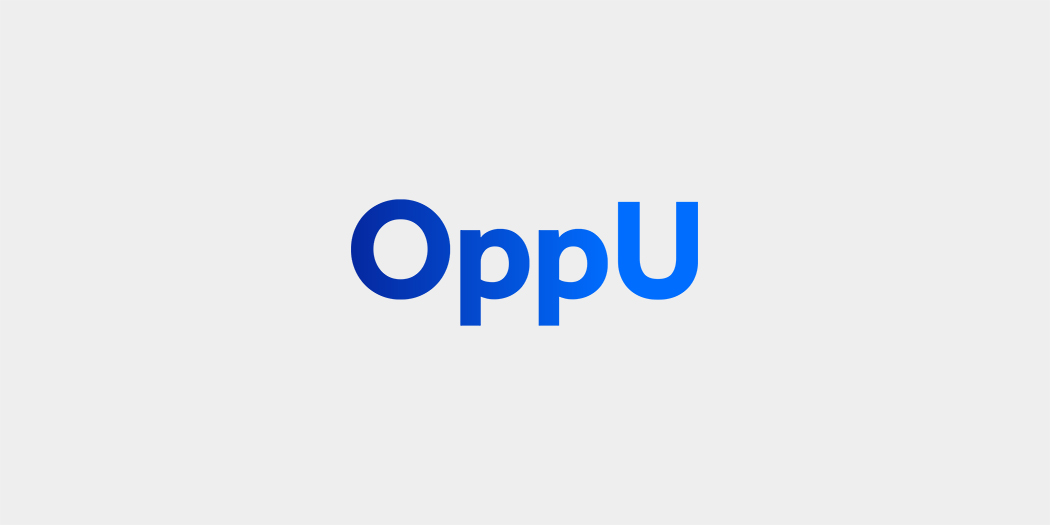 Set up your journal and tackle your finances in four steps.
Do you rely on life hacks to keep you organized? What if you could apply that to your financial life? Think: a meticulously balanced checkbook and budgeting apps. If so, then set up a bullet journal to add to your collection. 
Created by Ryder Carroll, a New York-based designer, the Bullet Journal (BuJo) is a method that helps users keep track of the past, organize the present, and look forward to the future. The craze has swept the internet, with millions of beautifully-designed bullet journal images on Instagram and Pinterest.
If you want to get financially organized — with a dose of creativity and fun — then look no further than bullet journals for personal finance.
It's easy to get started. Here's how to set up yours and start living a well-organized life —well, financially at least.
No. 1: Define a financial goal
One mistake that bullet journal novices make is going too big, too quickly. A too-ambitious or hazy goal can overwhelm and lead to lost motivation.
Start small. First, identify your main financial goal. Only choose one.
Decide what area you need the most financial help. Are you saving for a trip? Do you want to pay off your student loan debt? Big or small, make sure that your goal is actionable and current so you can start working toward it right now.
No. 2: Choose a bullet journal spread
With your financial goal in mind, pick a related "spread." (In BuJo terms, a spread is another way to say layout or design.) Here are the most common bullet journal spreads for personal finance:
Budget planner
A budget tracks income and expenses — that's why it should come first. Budget trackers break down monthly spending into categories to make them more manageable. 
There is one simple way to create a budget-planner spread: Create a side-by-side monthly budget page and monthly expenses page.
The budget page will show expected totals for the month. Include a checking portion that lists a starting and ending balance, as well as monthly bills. Also include the starting and ending balance for savings as well as a savings goal.
You can download the below example here.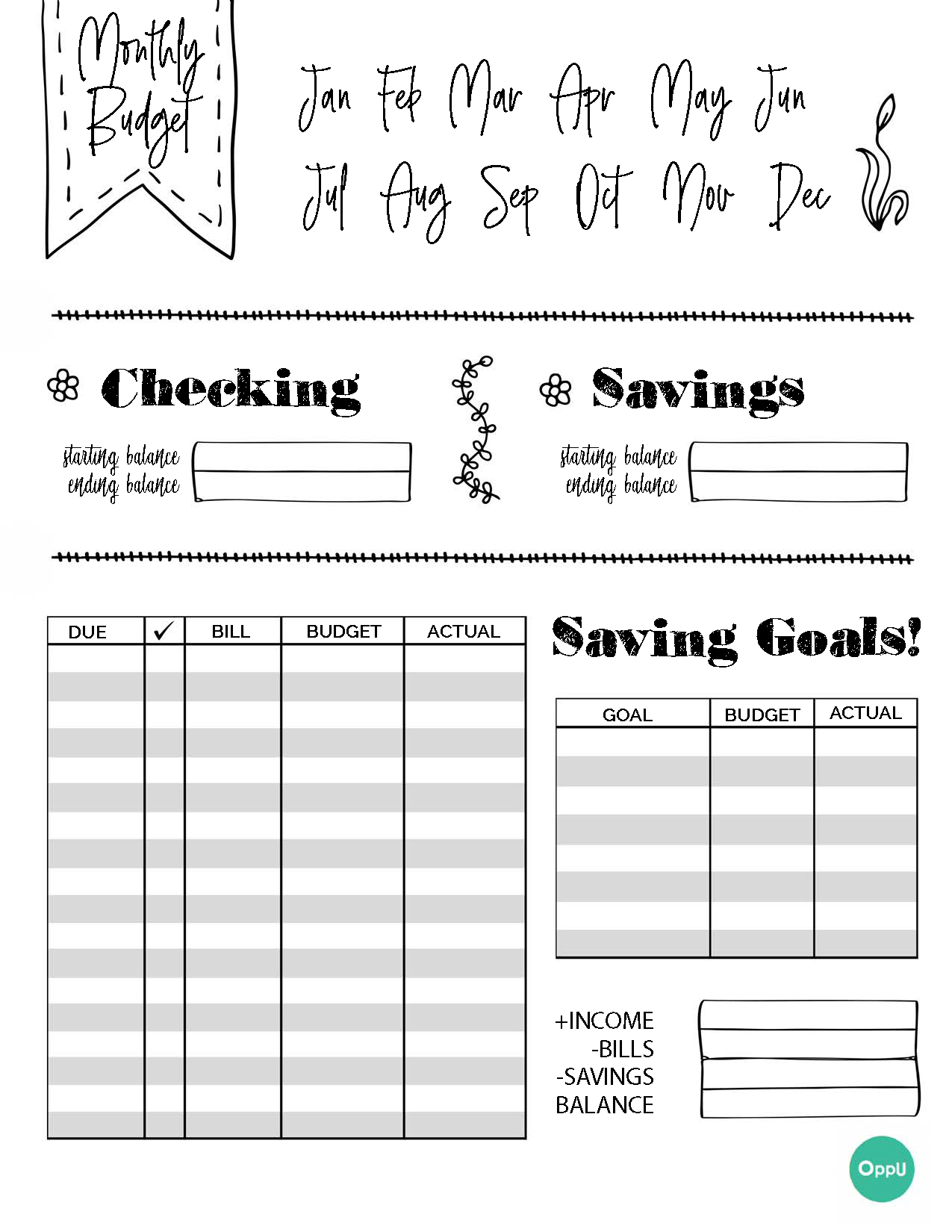 The expenses page is a simple chart to track each purchase you make. You can download the below example of the monthly expenses chart here.
Income tracker
Keeping track of your income is important. This is especially true if you don't have a steady salary and it fluctuates from month to month.
To use your bullet journal to help, set up a monthly calendar. List your expected income for each month. Include money from jobs, side hustles, passive income, and any other source. 
It's okay if you aren't sure of income for later months — just be sure to modify the income tracker as you go.
You can download the below income tracker example here.
Expense tracker
An expense tracker details monthly expenses, showing where your money was spent. 
Start by writing "January Expenses" on the first page, then continue with each month on separate, consecutive pages. Next create a simple grid with the following titles: Date, Purchase, Place, Category, and Cost. 
To use the tracker, fill out the following information as you spend money:
The date should relay when a purchase was made.

The purchase should detail what was bought.

The place is the retailer, such as Spotify or a property manager/landlord.

Feel free to use as much detail with each category as you like, itemizing each expense as food, health, auto, home, and so on.

Finally, the most important detail is the cost, including cents.
You can download the below expense tracker example here.
Savings tracker
There are a variety of savings tracker spreads to organize short- and long-term savings goals.
One option is to create a savings wishlist. One the first page, list the expenses that you're saving toward, including everything from a laptop to a house. Each item should have its own meter with the total amount written at the end.
Download a copy of the below savings tracker here.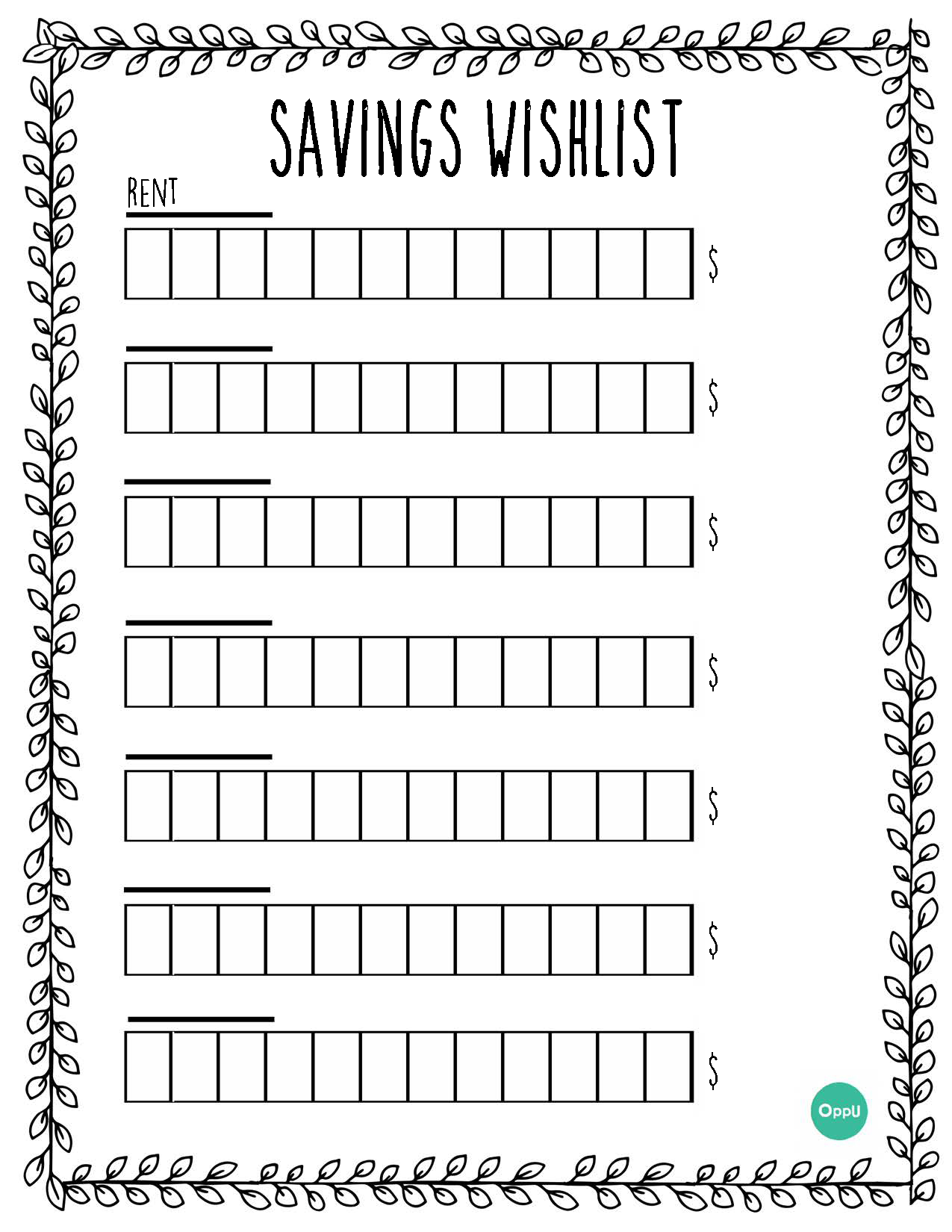 On the second page, create a checklist for every savings goal you have, big or small. It will be satisfying to check items off as you reach your goals.
Download a copy of the below savings checklist here.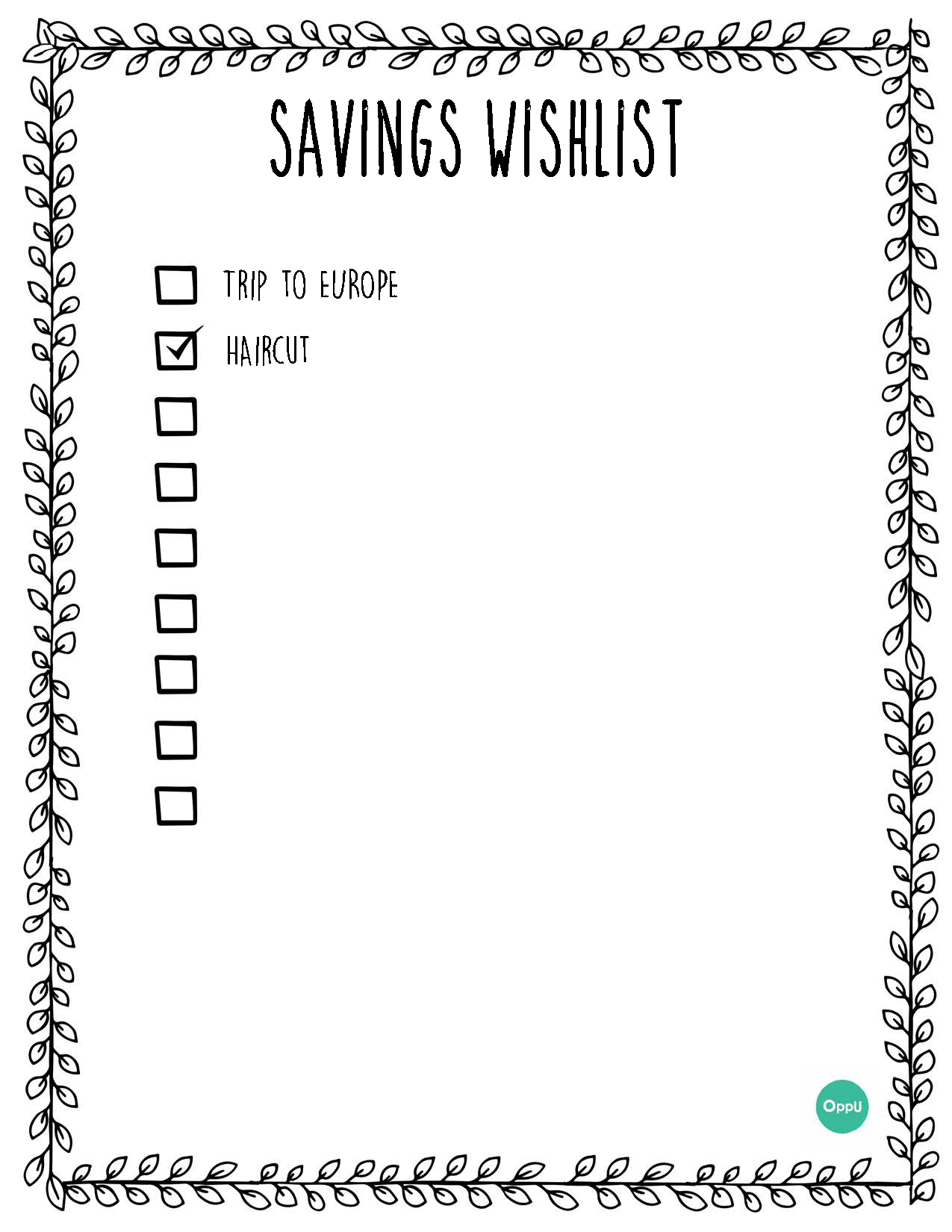 No matter which spread you choose, make sure it's colorful and enjoyable to fill out. Creative savings trackers are more fun, which will motivate you to complete savings goals even faster.
Debt payoff tracker
Debt can become unmanageable without a system in place to pay it off. A payoff tracker that uses the snowball method of repayment, which targets the debts that are easiest to pay off, will keep track of debts, payment amounts, and due dates. You can also learn more about the snowball method in this post explaining how it works.
Create a chart to organize your debt payments. In the first column, dedicate a row to each month. In the second column, write down the debt name and its priority in the top row. Start with the smallest debt and continue to rank your debts in the subsequent columns from smallest to largest. 
Now, locate the current month. In that grid write down the minimum payment, snowball payment, and balance for each debt.
Fill out each month as you pay off debts. The snowball method will ensure that you are gaining momentum to keep paying them off. 
Download the below example of the debt tracker here.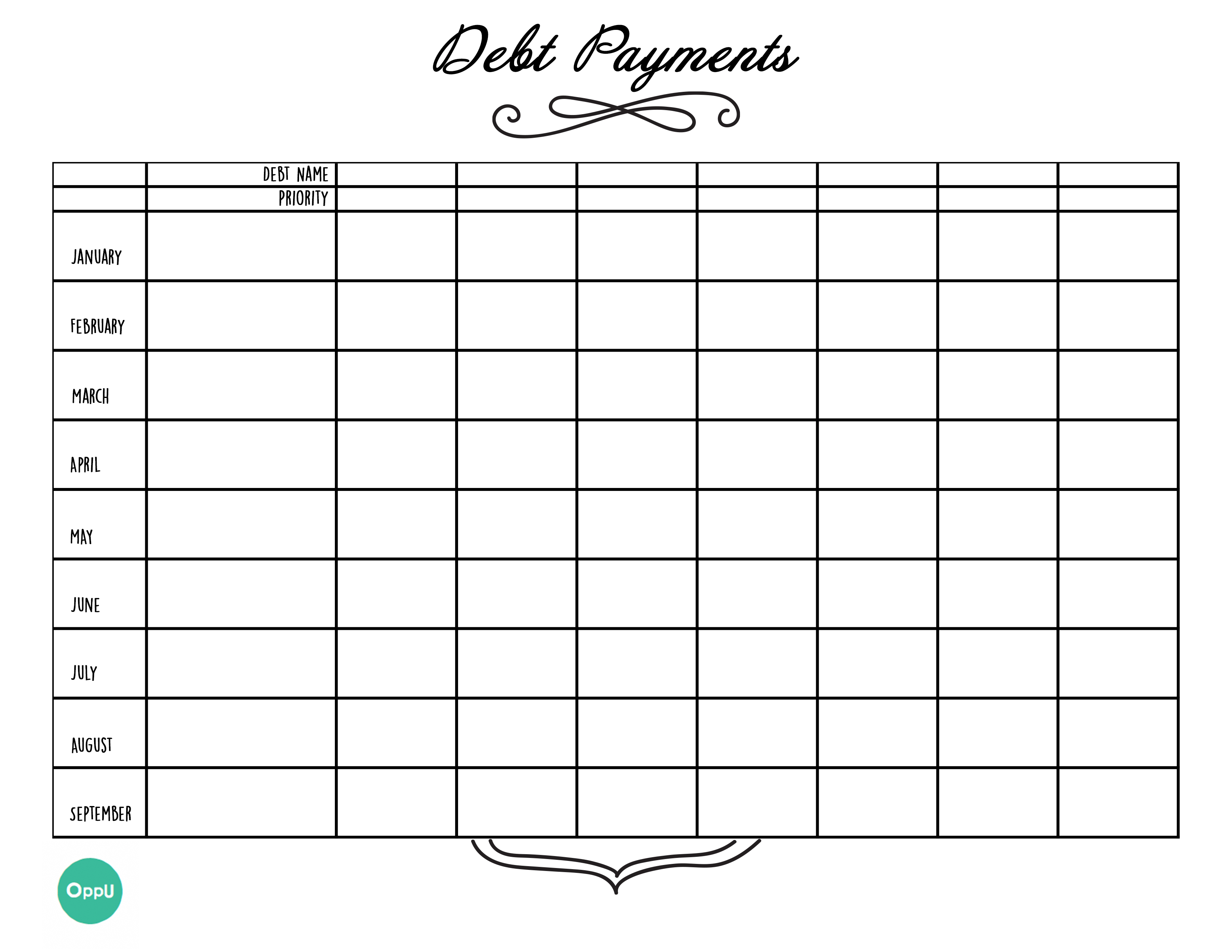 No. 3: Gather project materials
Now it's time to gather all of the materials to set up a bullet journal.
Pick a notebook to house the bullet journal. It doesn't need to be fancy, but an ideal journal is sturdy, lightweight, and portable.
Buy pens, markers, crayons, or whatever else you'd like to use to write and decorate. Get creative. If colorful gel pens motivate you to bullet journal everyday, then invest.
Next, organize your financial materials. Refer back to the type of bullet journal spread you'll create and gather the necessary items, like bills, receipts, or pay stubs.
No. 4: Create a bullet journal
Finally, it's time to create a bullet journal.
Find and print out a bullet journal spread to replicate. Now, schedule a few hours to write, draw, organize, and create. Once you've finished, update the bullet journal every day to track progress and complete financial goals.
How bullet journaling can help your finances
Bullet journaling should be cathartic. Not only is bullet journaling a way to organizing your financial life, but it's basically craft time for adults.
We talked to Anna Liszka, who runs Anja Home, a lifestyle blog about bullet journaling for all areas of life. She shared her story about how she uses personal finance bullet journaling to stick to short- and long-term financial goals.
[B]ullet journaling forced me to think about my financial health. I lived beyond my means, having no savings, and plans for the financial future.

Bullet journal helped me to organize my finances, cut off monthly expenses, and get back on the right track by saving for future investments and retirement.

First, I set short- and long-term financial goals and wrote them down in my bullet journal. Next, I created an expense tracker to control my spending. I used it for about two months. After this time, I created the following bullet journal pages:

Budgeting spread for budgeting all my income, fixed expenses, Irregular spends, potential savings plus essential and optional expenses
Savings tracker for tracking my progress
Net worth tracker for tracking my net worth

Also, I continued to use an expense tracker.

If you want to get started with bullet journaling for personal finance, I'd recommend you create an expense tracker as your first bullet journal finance spread. It allows you to see where every single dollar goes and learn your spending habits.
Bottom Line
Bullet journaling can help you reach your financial goals by keeping you organized and accountable. Choose a spread, gather materials, and then get creative. Not only will you keep your finances on track, but you'll benefit from daily check-ins on your financial health.
Article contributors
Anna Liszka is founder of Anja Home, where she helps other women stay organized, be productive, and live more intentionally through bullet journaling.