How to Open a Bank Account
Written by
Samantha Rose
Samantha Rose is a personal finance writer covering financial literacy for OppU. Her work focuses on providing hands-on resources for high school and college-age students in addition to their parents and educators.
Read time: 13 min
Updated on July 31, 2023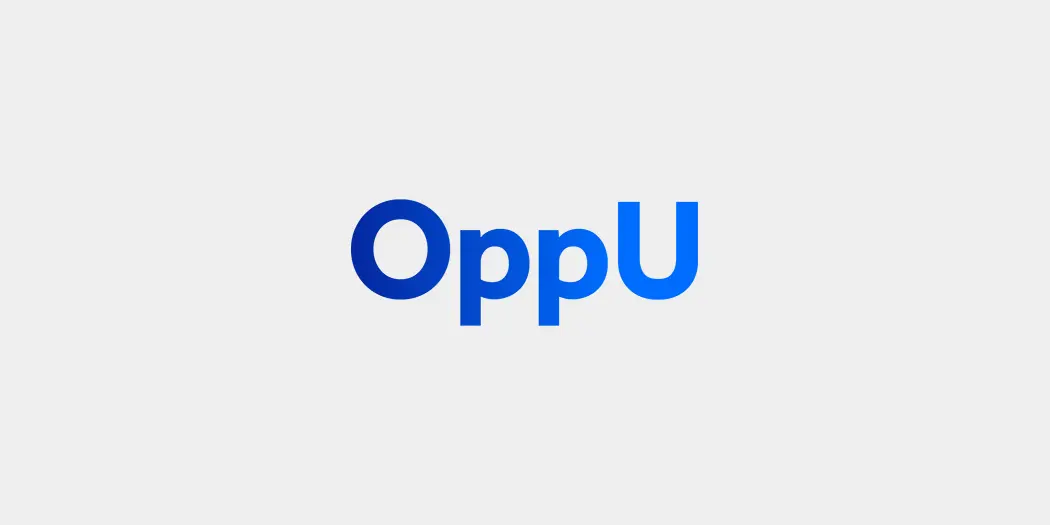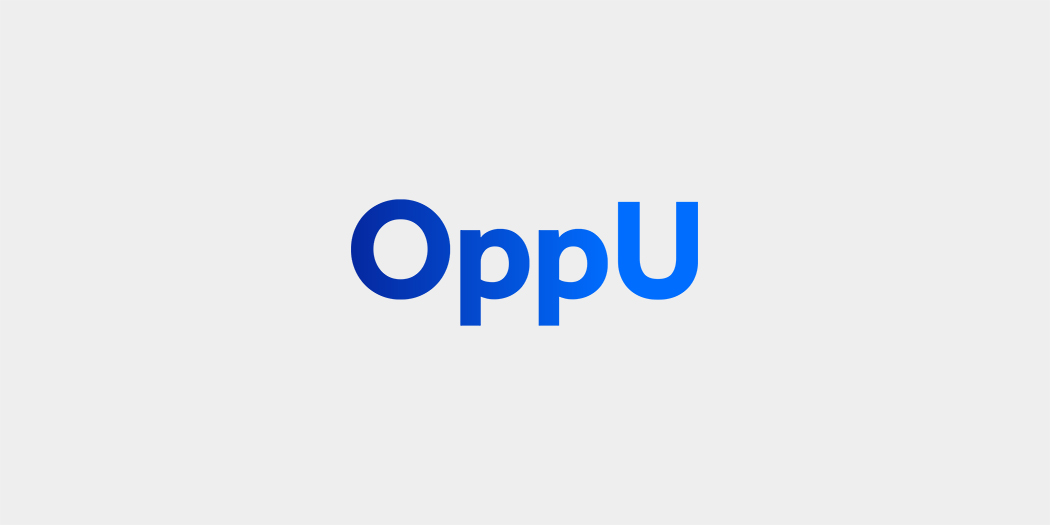 Here's how to open a bank account and what you'll need to do it.
Want to open a bank account but don't know how to do it? Whether you apply online or in person, there is information that you should be prepared to provide.
Before you head to the bank, use our step-by-step instructions and downloadable checklist to assemble the right documents, ask the right questions, and feel confident signing on the dotted line.

 DOWNLOAD THE BANK ACCOUNT CHECKLIST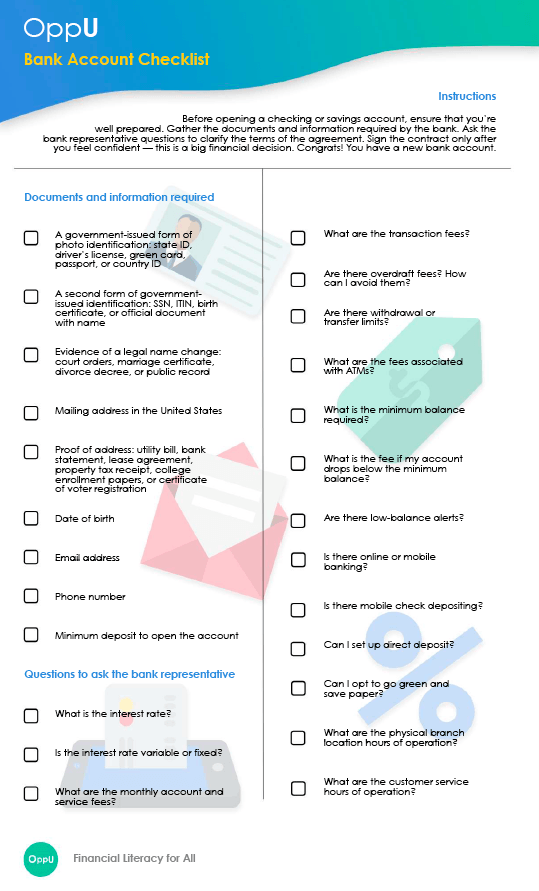 Step No. 1: Pick checking or savings.
The first step to opening a bank account is understanding the differences between the two main services might be using: checking and savings accounts.
Keep in mind that while both types of accounts are offered by most banks, all of the terms and conditions are specific to each. So do your research.
Checking Account
A checking account allows easy access to the funds in a bank through online banking and is used primarily for everyday expenses, like bills, purchases, and ATM withdrawals.
The pros: Checking accounts are linked to debit cards, checks, and ATMs, because they're made for spending. The best accounts offer no minimum balance, no monthly fees, and may even come with a sign-up bonus.
The cons: These accounts pay low to no interest. If an account holder forgoes overdraft protection, then their checking account risks racking up fees for consistently low or overdrawn balances.
Savings Account
A savings account is an interest-bearing bank account that is used to store money for later–perfect for short-term goals or an emergency fund.
The pros: Money in a savings account earns a higher interest than a checking account. This allows the money saved to compound more quickly, essentially adding bonus money to the account.
The cons: Withdrawal limits and minimum balance fees ensure that only committed savers will benefit from the accruing interest.
Tips from the Pros
Nermeen Ghneim, owner of personal finance blog Savvy Dollar
If you are opening a checking account, look for accounts that offer free checks, low or no overdraft fees, and plenty of ATM access in your area that you can use free of charge.

[A]sk if the checking account comes with a debit card and if so, what perks you get for using the card.

Also, request to get a tour of the online bank site and mobile app. Make sure you understand how to use it, and if it seems like it would be easy and convenient for you to use to pay your bills and do transfers.

If you are opening a savings account, be sure to ask about the interest rate offered. Also, make sure there are no fees or limits on withdrawals. If you are putting in a large amount, be sure to ask if the account is FDIC insured.
Richard Best, personal finance expert at DontPayFull
Online Banking
At the core of most banking services is their online banking platform, which provides you with one integrated point of access to support all of your banking needs, 24/7. In addition to viewing your account activities in real time, it enables you to execute transactions such as transfers between accounts, pay bills, and even send payments to other people via text or email. The system enables you to view images of your check and deposit items, and to download your transactions to your favorite financial management software. Many banks now offer a remote deposit feature allowing you to capture an image of your check and deposit it via your smartphone.
Debit Cards
Most banks offer a free debit card along with their checking services. A debit card works like a check and makes managing your cash flow even easier. You can use your debit card to pay for your day-to-day expenses and bills instead of cash, checks, or credit cards. The money comes right out of your checking account which is linked to the card, with no interest charges or card fees.
Cash Rewards Programs
Some banks link their debit cards to a cash rewards program that will pay you in cash back or rewards points on qualifying purchases. Cash may be credited to your account, or points may be redeemed for certain purchases.
Step No. 2: Meet the requirements. 
Before opening a new bank account, make sure that you're qualified to do so. The United States has a few preliminary requirements that are oftentimes dependent upon federal and state laws, bank peculiarities, and personal situations. Here are just a few to keep in mind and then research more thoroughly if they apply to you.
To open a bank account you may have to be:
18 or older
A U.S. citizen
Able to visit the bank in-person
18 Or Older
To open a bank account an account holder needs to be at least 18 years of age or have the permission of a parent or legal guardian.
In order to open an account the account holder must be able to sign a contract, which minors are unable to do. Even for a savings account.
Banks may refuse to open accounts for those younger than 18 years old, but there is an alternative—a joint or custodial account.
A joint or custodial bank account allows an adult to open and hold an account in the name of a minor. Once the minor turns of legal age, they can take full ownership of the bank account. Using this method, parents can allow their young children to enjoy the benefits of a bank account legally. Problem solved.
U.S. Citizen
To open a bank account in the United States, the account holder can be a citizen, resident, non-resident, foreigner, expat, or traveler. American citizens will have a much easier time opening an account, but it's possible for others to do the same.
The keyword here is patience. It is entirely possible to open a bank account as a non-citizen, but it will require additional planning.
Check the policies of different banks. For instance, smaller regional banks tend to be stricter about citizenship than larger national banks, so it may be beneficial to choose a bank based on their policies. Other banks may require their customers to maintain a U.S.-based physical address.
Prepare to make an in-person visit to the bank in order to confirm your identity. Bring along supplementary documentation such as a passport, green card, or Individual Taxpayer Identification Number (ITIN).
Visit a Location In Person
Thanks to the advancements in online and mobile banking, banks have streamlined their systems so that new and existing customers can be serviced whenever, wherever. This means that banks generally encourage customers to fill out digital forms, upload eDocuments, and call customer service.
One drawback comes from banks that have yet to modernize. These banks prefer for new customers to open an account in-person.
In that case, schedule an appointment date and time to meet with a bank representative one-on-one. Bring documentation and a list of questions that you'd like answered—don't hold back. Sign a legal contract only after you understand and are satisfied with the terms of the agreement.
While scheduling an appointment with your local branch, assess whether your new bank will be convenient. Where are the physical branches in your area? Are there nearby ATMs?
Tips from the Pros
Logan Allec, owner of Money Done Right
Age
For most banks and most accounts, [age] is a non-negotiable factor to help protect them against a minor making financial decisions that they are not responsible for.
Citizenship
While this fact has slowly changed over the past decade, there are still many smaller, regional banks that require citizenship in order to open your account.
In-Person Appointment
This has also changed over the past decade as online banks like Ally have become more popular. [S]till many legacy banks require you to be in-person when opening your account.
Step No. 3: Round up your documents.
If you're an organized person, it won't be difficult finding the necessary documentation to open a bank account. If not, spend time gathering and filing these papers so that you can either submit them online or make duplicates to bring along in-person.
To open a bank account you'll need the following:
ID
Personal information
Proof of address
Minimum deposit
ID
Bring at least one form of valid government-issued photo identification to the appointment. Photo identification can be either a state ID, driver's license, or passport.
Bring a secondary form of government-issued identification, such as a Social Security number card, birth certificate, or official document containing first and last name.
Also, bring evidence of a legal name change, if it applies. A marriage certificate, divorce decree, court order, or public record should suffice.
Personal information
Know the following personal information off the top of your head or write it down: date of birth, mailing address, email address, and phone number.
Proof of address
Banks send important items like monthly statements, bills, and debit or credit cards to a customer's mailing address. It's important to bring a bill or official document that can prove a home address.
The most commonly accepted documents include utility bills, college enrollment papers, bank statements, lease agreements, property tax receipts, or a certificate of voter registration.
Minimum deposit
Banks often require a minimum deposit to open a savings and checking account. Many also have a minimum balance expected to be maintained while the account is active. If the balance drops below a certain threshold the account holder may incur a fee.
Tips from the Pros
Nermeen Ghneim, owner of personal finance blog Savvy Dollar
Some banks require two forms of ID, so it's usually good practice to bring your social security card or birth certificate... If you are under 18, you will likely also need to bring a parent along to sign as a co-owner.
Step No. 4: Ask questions.
Be sure to ask about best practices pertaining to checking and savings accounts. Clarify any fees the bank might charge and how to avoid them. For instance, what seems like an introductory no interest checking account could actually have hidden fees and penalties written in the fine print of the contract.
Not sure what to ask? Here are the most important questions to ask a bank representative.
Always ask about the following:
Account fees
ATM and service fees
Minimum balance requirements
Withdrawal limits
Interest rates
Online and mobile banking
What are common account fees and how can I avoid them?
Ask about monthly maintenance fees, minimum balance fees, transaction limit fees, and any other fees that might be charged to your account. Also ask about how best to steer clear of fees. For example, an overdraft fee can be avoided by signing up for overdraft protection.
How much are ATM fees?
Most major banks have ATM locations at convenient points around every city. Ask about service charges to use these ATMs. Is there a penalty for using another bank's ATMs? Ask if there is an additional fee for cash withdrawals, check deposits, and other everyday transactions you expect to make.
Is there a minimum balance requirement? What is the fee if my account drops below the minimum balance?
Often banks require a minimum combined balance, which is a minimum amount of money that is expected to be maintained across all bank accounts. Clarify what these amounts are since they vary widely between banks and types of accounts.
Are there any withdrawal and transfer limits?
Since banks are regulated by the Federal Reserve, Regulation D (Reg D) imposes requirements on savings accounts limiting people to six transactions each month on transfers and withdrawals. This means that a savings account most likely comes with withdrawal limits and then a fee is charged. Luckily, Reg D doesn't apply to withdrawals or transfers made in-person or at ATMs. Make sure to clarify this with the bank representative.
What is the interest rate on this account?
For interest-bearing checking accounts, many brick-and-mortar banks don't offer a significant APY (0.04%) while online-only banks offer 1% APY. These are slight differences that could add up. Either way it's worth being informed and comparing interest rates.
Does this bank offer online and mobile banking?
Shocking news, but not all banks are up-to-date with the latest in banking technology. Make sure that your preferred bank offers mobile and online banking options to streamline their services and your experience.
Some banks may charge to use tech features. Conversely, other banks might incentivize their customers to switch to online-only or mobile banking.
Tips from the Pros 
Need a starting point for additional questions to ask a bank representative? Rely on the experts  to help you get answers.
Jerry Brown, owner of Peerless Money Mentor
"Are there any monthly fees associated with this account? If so, how much money do I need to deposit into this account to avoid the fees?
Is there a charge for using a different ATM to withdraw money?
What is the interest rate offered on this savings and/or checking account? Is this interest rate variable or fixed?
Do you offer mobile check depositing?
If I overdraft my account, what is the fee?"
Kevin Panitch, owner of personal finance website Just Start Investing
"What are all the fees associated with the account? And ask for ALL the fees. Nothing is worse than being charged for something you didn't even know was against the rules.
What are your hours of operation? This one is not as common, but it's important. It's your money, and you should know when you are able to access it (or a human being) and when you cannot."
Step No. 5: Get your account materials.
Don't expect to have all of your bank account materials the day you walk out of the bank. It's customary to wait for a short period before receiving paperwork, a debit or bank card, checks, or additional account information.
Banks will mail materials to the physical address provided by the customer and confirmed by their proof of address. It's important to watch for the bank' welcome package in the coming days and weeks. If nothing arrives within the specified time period, say something! Materials that are mailed to the wrong address can inadvertently leak sensitive account information to a stranger.
Ensure this doesn't happen by staying on top of what to expect next.
Checking accounts will typically provide the following:
Debit card
ATM card
Checks
Linked savings account
Online/mobile access options
Savings accounts often come with the following:
Withdrawal slips
Linked checking account
Online/mobile access options
Make sure that if there's a debit or credit card, checks, or withdrawal slips tied to your new account that you receive the materials within the timeframe specified by the bank representative. If it's being mailed to you, this is especially important so that your new card doesn't fall into the wrong hands.
Both types of accounts can often be accessed by logging in online or on a mobile app. Online banking provides access to bank accounts through an online portal secured by a unique username and password. For users on-the-go, mobile banking allows access through a convenient app with a similar interface as the online banking portal. This information might be emailed or mailed on official letterhead to the new account holder.
Bottom Line
Opening a checking or savings account doesn't have to be a tiresome, confusing ordeal. Well-prepared first-time bank users will breeze through the process by doing their research, bringing the appropriate documents, asking the right questions, and feeling confident before signing any paperwork.
Article contributors