16 Incredibly Cool Online Banking Features You Probably Didn't Know About
Written by
Samantha Rose
Samantha Rose is a personal finance writer covering financial literacy for OppU. Her work focuses on providing hands-on resources for high school and college-age students in addition to their parents and educators.
Read time: 6 min
Updated on July 27, 2023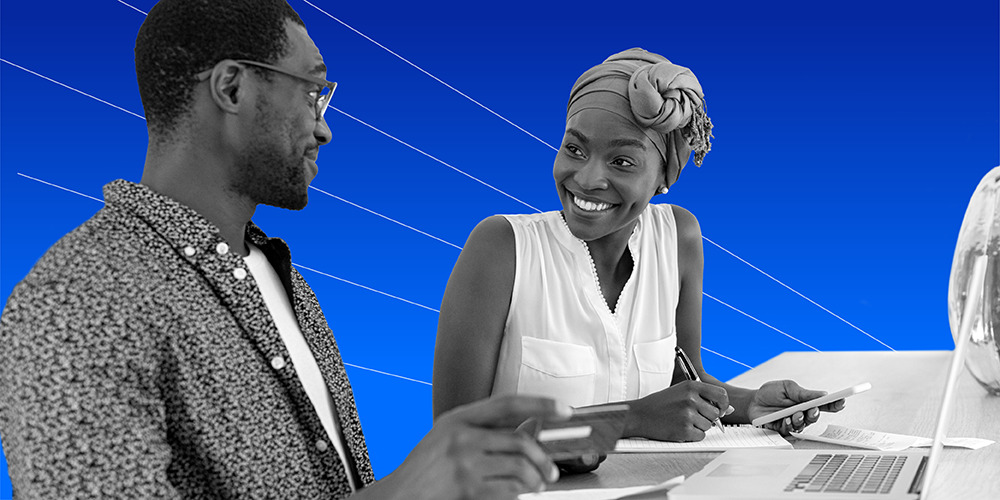 Banks are modernizing. Why not join them?
Baking has come a long way. Gone are the days of long lines and paper statements. Say hello to mobile deposits and budgeting apps.
The digital revolution has arrived, and banks are on board. And while some of the technological advances of online banking may be overwhelming at first, many of them are really helpful.
And really cool. 
Do you know what your bank has to offer? Here are 16 online features to modernize your money. 
No. 1: Expense categories
Online financial tools can help you look at all of your funds in one place and see how you're spending. Certain features will even include a breakdown by category. For instance, your expenses might show the amount spent on retail purchases (like clothing) versus groceries or transportation. Identify high-spend categories to create and stick to a budget.
No. 2: ATM locations
Finding an ATM is a surprisingly difficult task. You search maps and drive to the nearest location, only to discover it's an out-of-network ATM with fees. Online banking customers can avoid the headache with a little trick. Check to see if your financial institution offers an ATM locator with an online search, an app, or a text. Save money by locating an in-network ATM, which won't charge extra fees.
No. 3: Text transactions
Many financial institutions offer text banking, which lets customers request and receive information by text. Bypass logging in to an online site — as long as you have your phone, you're good to go. Sign up to start making transactions with a swipe or text. Text message rates may apply.
No. 4: Tax management
Online banking makes tax season a breeze. Manage your taxes by accessing financial records and receipts, which are only a click away. Take advantage of services that allow you to categorize expenses according to tax-deductible status. At the end of the year, review these expenses and create a summary report. Then use the report to inform your taxes and enjoy a stress-free filing experience.
No. 5: Financial planning
Online banking often includes financial planning and financial education tools. Make the most of your banking with customized financial guidance tailored to your needs. Set goals. Use financial calculators. View investment strategies. Take self-guided lessons and quizzes. Track your progress. Each financial institution provides a unique suite of financial management tools, so check to see what yours offers.
No. 6: Travel notice
A travel notice occurs when you inform your financial institution of upcoming travel plans. This allows the institution to expect unfamiliar or foreign transactions on your debit or credit card for the duration of the travel notice. You won't have to worry about fraud alerts or having your account frozen unnecessarily. To submit a travel notice, access your online banking, navigate to the customer service tab, and then select set a travel notice. Enter a few pieces of information, including the country to which you're traveling and the dates you're traveling.
No. 7: Currency exchange
If you're traveling internationally, you'll need to exchange currency. Avoid costly exchange rates by ordering foreign currency online ahead of time. First, view the foreign exchange rate and determine the amount you want to exchange. Navigate to the exchange tab and submit an online request.  Depending on the amount requested, cash will be mailed to your address — typically amounts under $1,000 — or you'll be required to pick up the currency at your local branch.
No. 8: Personal checks
Next time your supply runs low, order new checks online. Online banking customers can order checks securely and conveniently. To do so, sign in to your online account, navigate to the correct checking or savings account, and select order checks. It's important to have a few key pieces of information on hand, including your mailing address and payment method. 
No. 9: Virtual sign-up
Do you want to explore your financial options? You can do so from the comfort of your home. That's right — financial institutions often allow consumers to learn about different financial products and open a new account entirely online. Compare factors like interest rates and fees. Then complete an online application for a checking, savings, retirement, money market, or educational account.
No. 10: Alerts and notifications
Stay on top of your finances. Create and manage account alerts in online banking. Email or text alerts can notify you about account activity, such as a low balance or an upcoming bill payment. Alerts are fully customizable, so you can receive only the ones you want while muting the rest. 
No. 11: Mobile deposit
Payday made easy. With online banking, you don't need to deposit a check in person or at an ATM. Grab your check, take a clear picture of the front and back, and submit the transaction online or via an app. Hold on to the physical check for a few days until you're certain the transaction has cleared. Then make sure to store the check securely or shred it. If you need to review your deposits, log in and view the processed checks all in one place.
No. 12: eStatements
Did you know online banking is sustainable? Well, it is if you go paperless. By signing up for eStatements, you'll receive an email notification when your statement is available. Log in to access years of financial documents online, including your most recent statement. And if you ever need a hard copy, print your online statement.
No. 13: Digital payments 
Writing a check is outdated. If you're not already, start paying your bills with online banking. Online bill pay is a digital payment service that allows customers to pay their expenses virtually. It's convenient, secure, and oftentimes free. You can pay everything from your utilities to your credit card online. Simplify your bills even further by setting up an automatic recurring payment.
No. 14: Money and wire transfers
Many financial institutions offer customers a way to send funds directly to another individual. Send money to friends, family, or roommates in a few minutes. In most cases, you only need a cellphone number or an email address. Online banking also includes international wire transfers — although this service might come at a cost.
No. 15: Bank-to-bank transfers
Need to replenish your low account balance? Online banking allows customers to transfer money between accounts — all without paperwork. Seamlessly transfer money at one bank or across multiple institutions. And transfers occur immediately, so your money won't be tied up.
No.16: 24-hour account monitoring
Online banking offers customers around-the-clock financial monitoring. Gone are the days of waiting in line or calling a customer service number to receive an update about your account. Simply log on and check your account balance at any time — 24 hours, seven days a week. Having the ability to monitor your account can help you make smart financial decisions while avoiding unauthorized transactions, overdraft fees, and other issues.
Bottom line
Are you taking advantage of these cool online banking features? Don't miss out — check with your financial institution to see what it offers.