10 Genius Textbook Hacks to Save Big This Semester
Written by
Samantha Rose
Samantha Rose is a personal finance writer covering financial literacy for OppU. Her work focuses on providing hands-on resources for high school and college-age students in addition to their parents and educators.
Read time: 6 min
Updated on June 15, 2022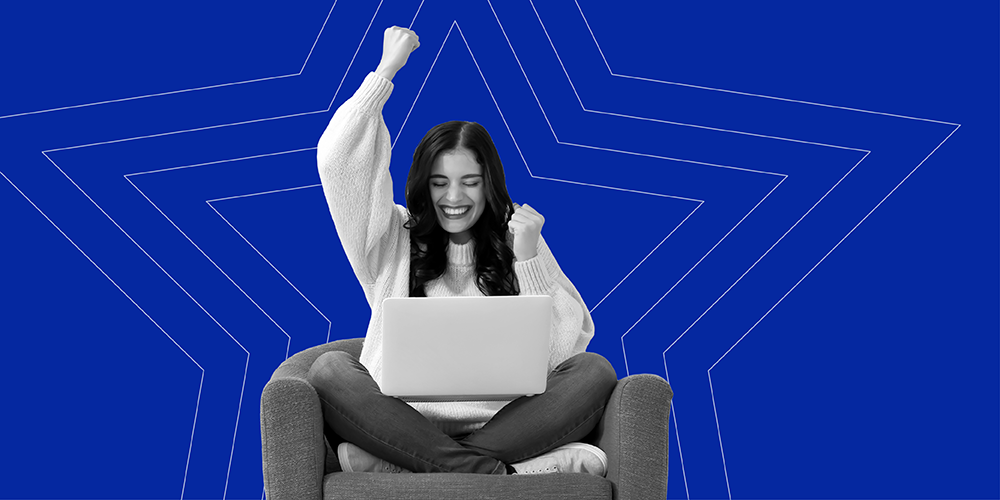 Overspending on books is so last semester.
Tuition is a hefty price tag, but it's not the only college expense. During the 2019-2020 school year, the average student spent more than $1,240 on books and supplies. And these costs add up quickly.
Goodbye, money.   
Fortunately, there are ways to keep textbook costs low — if you know how to hack the system. So why pay full price?
Here are 10 genius hacks to save big on textbooks this semester. 
No. 1: Find an ebook or PDF
Most print textbooks have an ebook or PDF version available. These are an affordable option — or even better if they are available for free.
Ebooks are typically much cheaper than physical copies. Why? "For this version, the book manufacturer does not need to spend money on printing, binding, or shipping the book to local college campuses," said Logan Allec, CPA and owner of Money Done Right.
Similarly, PDFs for older, classic texts are often readily available online without copyright infringement. These digital versions are compatible with most devices, including a computer, e-reader, or smartphone. Determine which chapters are required for class, search the document, and print only these sections. 
Try a textbook search engine to get started, such as:
No. 2: Make copies of chapters
Why buy an entire textbook to only read part of it? If you know that your class includes a few chapters, then find the text and make copies. It may be a time-consuming process, but the money saved is worth it.
Hate lugging around a stack of photocopied papers? Scan the document and upload it to your digital library. This way you can access your materials anywhere anytime for easy studying on the go.
No. 3: Compare prices online
The campus bookstore is often the most expensive place to purchase textbooks. But you won't know until you shop around. Use an online price tool to compare textbook prices — both used and new. Make note of the lowest price and where it's available. Then, head to your campus bookstore to shop with the knowledge that you're scoring the best deal.
There are several textbook price comparison sites you can use, including:
No. 4: Choose an older edition
Consider buying an older edition of a textbook to game the system and save money. Each edition of a book is printed with small changes. Over a lifetime, these changes accumulate and significantly alter the book. But the difference of a few editions won't show a drastic change in content.
Previous editions "are almost always virtually identical, as most revisions are to generate revenue, not because of any substantive changes," said Michael Greaney, CPA and director of ESOP Administration Services for Equity Expansion International, Inc. Publishers often update the design and format, but not the content. 
Just be sure to refer to your class syllabus. Sometimes professors require a specific edition — and you don't want to purchase a textbook with outdated material. Not sure? Ask your professor if buying a previous edition of the same textbook is OK.
No. 5: Score a textbook scholarship
Textbook scholarships are often need-based and limited, but they do exist. Search for scholarships that specifically cover the cost of books. Scholarships that send the award money directly to students are another option. This scholarship money can be spent however the student deems best — like on textbooks. Go ahead and apply. Even a one-time stipend can make a huge difference. 
No. 6: Skip the textbook
Pro tip: Not every textbook is mandatory. Speak with your professor or reference the class syllabus before making a purchase. Sometimes the professor will include supplementary materials that are optional. If that's the case, you might be able to skip it.
"If the class is easy and doesn't require a lot of reading, you can probably get away with studying for quizzes using sites with study sets like Quizlet," suggested Bernard Wong, as he recalled his days as a student with several side hustles. "These sites usually have material uploaded by teaching assistants, and usually come with a set of possible quiz questions that you can take to pass your quizzes easily, saving you a ton of money by not buying the textbook."
No. 7: Borrow a textbook
Borrow your textbook from the library or consider peer-to-peer lending. Students who borrow when they can, spend less on textbooks overall. 
First, check to see if the campus or local library has an available copy. 
"Most of the university libraries keep up to date with textbooks and you may be able to borrow them instead of buying," said Igor Mitic, editor-in-chief at finance magazine Fortunly.com. 
Libraries often stock an earlier edition or a reference copy — meaning you can't check it out. But if you can find a copy to read and scan, you can make it work.
"Libraries sometimes have different editions of one textbook, so you should take some time and check out all of the possibilities," Mitic said, adding, "Don't just look for the latest edition as you may find identical content in the older versions."
If the library doesn't have a copy, turn to your peers. A peer-to-peer lending directory connects students looking to share, swap, or lend class materials. Borrowing is a convenient way to help out other students and save money. Alternatively, if you're in a pinch, ask a classmate to borrow their book. But don't rely on this method, as it's not a guarantee.
No. 8: Split textbook costs with a friend
Have you considered splitting textbook custody? If you take the same class as a friend — simultaneously or during different semesters — consider splitting the costs.
"Pair up with friends and buy the book together," suggested Chhavi Daaku, a personal finance blogger. "This way, you can reduce the cost considerably." 
For instance, two students who share a book can reduce the price by 50%. Just make sure to choose a reliable friend and arrange a custody schedule upfront to avoid fighting over study time.
No. 9: Rent a textbook
Renting is a money-savvy alternative to purchasing a book at full price. Remember, you're not required to rent from a campus bookstore. In fact, prices are often cheaper online. Many companies also offer free shipping, which is ideal for students taking remote classes.
"Many services have recognized that textbooks are a huge expense, but students tend to only need them for a few months each semester," Allec said. "As a result, large companies such as Amazon allow you to rent textbooks for a few months at a time for a relatively reasonable cost."
But beware — rentals have limitations. 
"Just make sure to return the book when requested or you may pay a sizable late fee," Allec said. 
Companies charge fees for damages and late returns. Damages include writing notes and highlighting text, making renting difficult for students who prefer to mark up their textbooks. Read the terms and conditions for each company closely to determine your best option.
No. 10: Buy a used textbook
When all else fails, buy used. A used college textbook is the best last-ditch effort to save money. Research used book prices at the campus bookstore and online. But chances are the best deals can be found by purchasing directly from other students. At the start of each semester, search for students who are interested in buying, selling, or swapping used textbooks. It's a win-win for all involved.
Once the semester ends, resell your used textbooks to add cash to your wallet.
Bottom line
Textbooks are expensive, but there are ways to stretch a dollar. Shop smart and save with these expert hacks. 
Article contributors